(Currently Not Available)

         KT'S Harvest Extravaganza
                  Save The Date (October 19th) & SIGN UP TODAY!  

    It is that time of year again! Our Harvest Showcase & Extravaganza is being held on October 19, 2019.
     Performing at Harvest gives your athlete the opportunity to show off to their family and friends what they
     have been working so hard on in their classes! They are working routines on each of the events and will
       be ready to perform with confidence. There have been some exciting updates that are in the works for
              this event to make it unlike any other, so you don't want your child to miss out on the fun!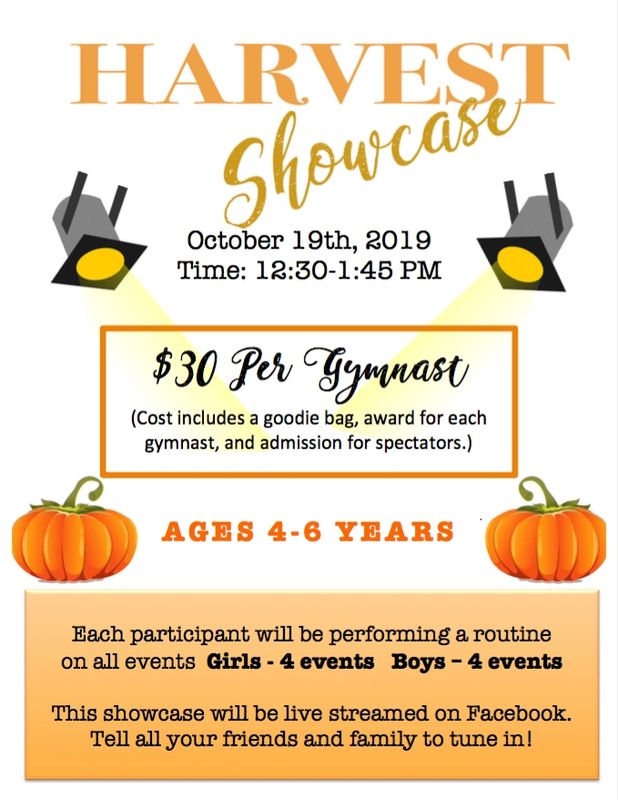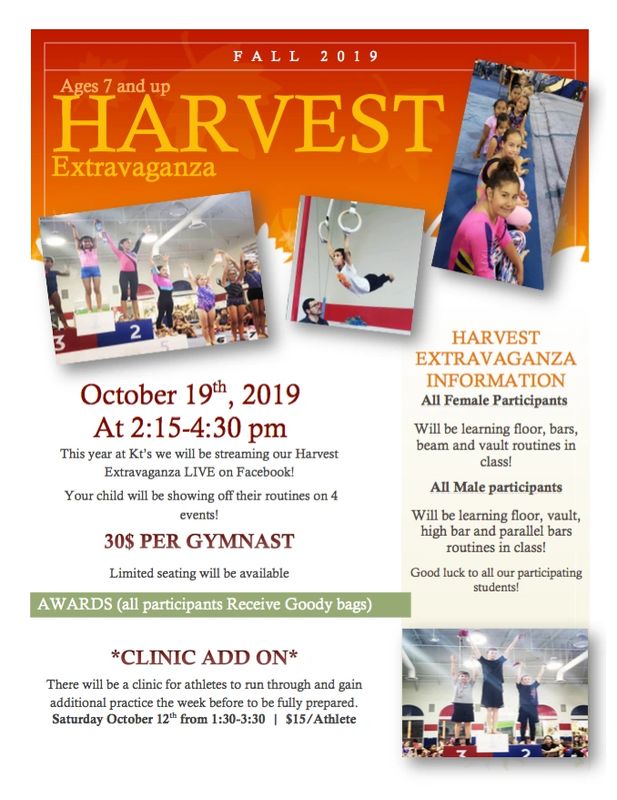 Registration by phone:

 (805) 349-7575


Download & Print Registration Slips:

You can also register in our office: 
237 Town Center East  Santa Maria, CA 93454
(Upstairs by Macy's)
Showcase Hours: 12:30pm-1:45pm (Ages 4-6 yrs)
Extravaganza Hours: 2:15pm-4:30pm (Ages 7 & Up)

Harvest Event Pricing: $30 per child (Includes Friends & Family Admission, Harvest Ribbons & Goodie Bags)
Harvest Clinic Add On: Saturday October 12  |  1:30-3:30PM (For Both the 4-6 & 7&UP Ages)
This is the opportunity for your athlete to come and get any last minute help with their routines. It is a great chance for them to clear up any questions they have, and clean up their form with a coach. This also helps with the nerves for next weekend to make them feel ready to show off on the big day! ONLY $15.00 MORE
SIGN UP TODAY. SPACES ARE LIMITED!

Deadline to register is October 17 by 5PM